Tom Andrews , President, United to End Genocide
When President Obama steps off Air Force One in Burma today, he will have an opportunity to do something effective about the escalation of human suffering since his visit two years ago.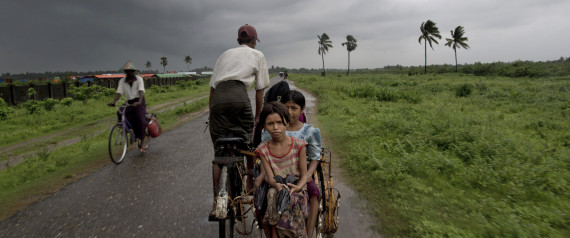 Credit: Associated Press
He can start by speaking up for the 1.3 million members of the Rohingya ethnic community who are under siege verging on genocide by the military dominated government. Denied citizenship, all members of this Muslim minority are forced to live in apartheid conditions where they are unable to work, travel, marry or have children without permission.
Having lost their homes and villages to violence, 140,000 have been forced into what can only be described as concentration camps. Untold numbers have died because of the government expulsion of their principle source of health care, Doctors Without Borders.
Now the government is denying their very existence, prohibiting the use of their name in public discourse, and pressuring foreign officials not to utter the word, as the UN Special Rapporteur for Human Rights in Burma has noted with alarm.
President Obama must recognize that, however well intended, his administration miscalculated when it lifted most sources of economic and diplomatic pressure on the regime two years ago. It was precisely this type of pressure that led to reforms that the administration and Congress celebrated two years ago, including the release of Nobel Peace Laureate Aung San Suu Kyi from house arrest and her election to the Parliament.
The reforms have stalled, however, and conditions for ethnic minorities like the Rohingya have gotten alarmingly worse. In one of the largest boat exoduses in Asia since the Vietnam War, over 100,000 Rohingya, Asia's new "boat people," have attempted to escape in rickety boats. Most of those who survived the perilous journey became victims of human traffickers in Malaysia or Thailand.
The Early Warning Project at the U.S. Holocaust Memorial Museum places Burma at the very top of the list of countries most likely to see state-sponsored mass killings.
The UN Special Adviser for the Prevention of Genocide has expressed deep concern for targeting of the Rohingya and warned of a "considerable risk of further violence." Hardly surprising given Burmese President Thein Sein's statement, two years ago, that the "only solution" for the Rohingya was deportation or camps. Quite surprising, however, was the U.S. announcement, hours later, lifting investment sanctions.
The slowing or reversal of reforms since President Obama's last visit to Burma is striking. The constitution still bans Aung San Suu Kyi from running for President. Political prisoners continue to be arrested. Attacks on civilians, rapes, and other severe human rights abuses continue to be reported against ethnic minorities in Kachin, Shan, and other states. Attacks on the press are on the increase, as highlighted by the recent killing of a prominent journalist while in military detention.
Last week Aung San Suu Kyi noted: "We do think there have been times when the United States government has been overly optimistic about the reform process." Of 11 reform commitments Thein Sein made to President Obama, only one has been fully met.
The Rohingya Muslim minority continues to suffer mightily. Earlier this year, Thein Sein expelled Doctors Without Borders, their primary source of health care. Last month, he declared, "[T]here are no Rohingya among the races [in Burma]" and stipulated that their only path to citizenship required that they renounce their identity and call themselves "Bengalis,' thereby accepting status as illegal aliens.
Too often foreign officials comply with this effort to "disappear" the Rohingya. When Secretary of State John Kerry visited Burma in August he did not utter their name, at least in public. President Obama reportedly mentioned the Rohingya in a call with the Burmese President on October 31, but whether he will use that word while in the country remains to be seen.
In addition to saying the forbidden word, President Obama should address the root causes of the crisis by urging the Burmese government to reform its outdated laws that base citizenship on ethnic identity. He should hold more Burmese officials accountable by increasing the targeted sanctions list. He should also push the Burmese government to open a UN Office of the High Commissioner for Human Rights, perhaps the easiest of the remaining 10 commitments that President Thein Sein made to him.
President Obama is up against a formidable challenge and is understandably reluctant to give up what he hoped would be a great foreign policy success. But while responding to the promise of Burmese reforms is understandable and appropriate, turning a blind eye to the warning signs of genocide against the Rohingya would be indefensible.
'Rohingya' is not just a name, it is 1.3 million people and a culture at risk of being erased. Join those urging President Obama to http://JustSayTheirName.org.
Follow Tom Andrews on Twitter: www.twitter.com/TomHAndrews